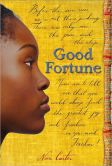 An exceptional work of historical fiction by a new, young author,Good Fortune is the story of Ayanna, born in Africa, separated from her family and sold as a slave at the age of four. Raised on a plantation, Ayanna (now known as Sarah) is raised on a Southern cotton plantation.   Despite her cruel environment, Ayanna has a strong, innate desire to obtain an education and to become free.  When she is moved from the fields to the house and put in charge of the master's children, Ayanna secretively teaches herself to read by observing the children in their lessons.  When she is threatened by her master's son, she realizes that the limited freedom she has achieved in her mind through education will never be enough to escape the cruel existence of bondage. Learning of her brother and sweetheart, John's plans to escape over the Christmas holidays, Ayanna begs to join them.  When their master's son finds Ayanna with her sweetheart, John, at a dance; he beats John to near death; Ayanna and her brother must risk their lives to escape. Good fortune follows them when they arrive in the north, and are purchased and freed by an abolitionist.  Even here, life is far from ideal, although they are free, there is no education for Africans, no economic freedom, and life remains a challenge as they take on new identities in this free land.  With the help of courageous people involved with the Underground Railroad, Ayanna eventually achieves her dreams and impacts her community through education and freedom.
Although the plot follows a chronological path, flashbacks in the form of Ayanna's terrible nightmares reveal the horror of her capture in Africa and the extreme pain involved with having been ripped away from her family and forced into slavery.  Carter's use of colloquial dialog authenticates Ayanna's character, as her language evolving as her education advances.   Good Fortunereinforces a number of positive themes regarding personal responsibility, education, freedom and a positive reminder of the sacrifices that our ancestors made for our freedom.  Much like Ayanna, people around the world still live in a world of fear, manipulated by others and forced into a desolate life of slavery.  An inspiring choice for middle and high school students, Good Fortune is so well organized that readers can easily summarize sections, make predictions and anticipate outcomes.  Highly recommended.
Author: Noni Carter
Publisher: Simon & Schuster Children's Publishing, 2011
Reviewed by: Kristine Wildner, Holy Apostles School, New Berlin, Wis.